Chatelaine Magazine
2004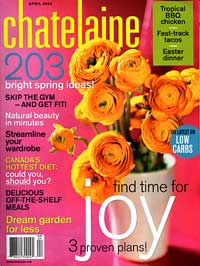 Chatelaine Magazine is Canada's leading women's integrated media brand connects women to relevant information, ideas and solutions. For 75 years, Chatelaine has been building communities while providing leading-edge insights to women's foremost concerns: health, food, women's issues, decor, work, style and beauty.
» Book an Interview
Campaign Coverage:
Monthly cross-Canada phone campaigns British Columbia media when editors are in Vancouver

Campaign Dates:
Rona Maynard - Editor of Chatelaine Magazine in Vancouver March 24 and 25, 2004.

Media Events:
Listen to Rona Maynard on AM600 with Rafe Mair on Thursday, March 25, 2004 at 9:30 am. Rona on CFAX Radio with Joe Easingwood on Friday, March 26, 2004 at 9 am. Rona on CBC Radio Victoria on Thursday, March 25, 2004 at 8:10 am The Vancouver Courier to run a piece in the very near future. The Victoria Times Colonist to run an article on March 28, 2004.

Public Appearances:
Women of Influence Luncheon at the Hyatt Hotel in Vancouver on Wednesday, March 24, 2004 at 12:00 pm. Rona is the keynote speaker.