Chatelaine Magazine - April
2004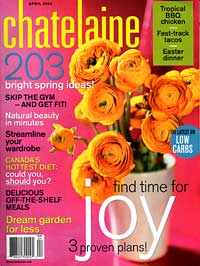 Chatelaine Magazine is Canada's leading women's integrated media brand connects women to relevant information, ideas and solutions. For 75 years, Chatelaine has been building communities while providing leading-edge insights to women's foremost concerns: health, food, women's issues, decor, work, style and beauty.
» Book an Interview
Campaign Coverage:
Monthly cross-Canada phone campaigns and British Columbia media when editors are in Vancouver

Media Events:
Watch for monthly updates on the latest and greatest stories from the magazine. Editors and writers are available for interviews.