All New Easy Low-Carb Cooking
by Patricia Haakonson, B.Sc.
ECW Press, 2004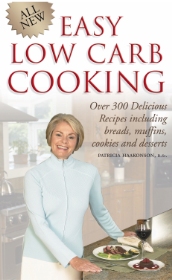 This is the third edition of Patricia's wildly successful cookbook. It includes winning submissions from readers who contributed to the Haakonson's online Recipe of the Month contest and favourites from family and friends who have joined the low-carb revolution. Discover menu alternatives ideal for everyday, entertaining, or holiday fare sure to beat culinary boredom.
» Book an Interview
Campaign Coverage:
Vancouver, Victoria, Nanaimo, Kelowna and Creston, B.C.

Campaign Dates:
Victoria October 22 - 27, 2004 Nanaimo October 28, 2004 Vancouver October 30 - November 3, 2004 Kelowna November 4 - 5, 2004 Creston November 6 - 7, 2004

Media Events:
November 8, 2004 CFAX RADIO –LIVE Host Terry Spence THE NANAIMO DAILY NEWS - Print Reporter Lynn Welburn SAANICH NEWS – Print Reporter TBC Monday, October 25, 2004 THE NEW VI – New Day CFML RADIO – Taped Carly Hebert Sunday, October 31st, 2004 7:25 pm Pac CKNW RADIO Host Sterling Faux DATE TBA CRESTON VALLEY ADVANCE - CFML RADIO – Live to tape interview

Public Appearances:
October 29 at 4:00 pm Low Carb Solutions in Tsawwassen October 30 at 12:00 at Barbara-Jo's Books to Cooks October 30 at 3:00 pm at The Cook Shop in City Square October 31 at 1:00 at Chapters in Langley November 2 at 7:00 pm at the Low Carb Centre in North Vancouver The Kelowna Chapters on November 4 from 7 pm - 9 pm