Lull-A-Baby Sleep Plan
The Soothing, Superfast Way to Help Your New Baby Sleep Through the Night and Prevent Sleep Problems Before They Develop
by Cathryn Tobin, M.D.
John Wiley & Sons Canada Ltd., 2006
ISBN: 0-470-83655-5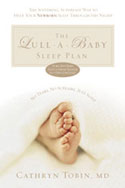 There's a right time to begin sleep training, just as there's a right time to begin toilet training, says Dr. Cathryn Tobin, a Toronto-based pediatrican. This insight has lead to one of the biggest breakthroughs in infant sleep learning in years: the discovery of the window of opportunity (WOO) that exists to gently encourage good sleep habits. This window is a precious and fleeting period that occurs around six weeks to two months of age, as your baby's biological clock is developing and she becomes ready to absorb good sleep habits, provided she's exposed to them. And if good sleep habits are instilled early on, parents don't need to break bad ones down the road.
» Book an Interview
Campaign Coverage:
Vancouver, Victoria, rest of B.C.

Campaign Dates:
In Vancouver on Thursday, August 31, 2006

Public Appearances:
No public events yet