Shared Vision Magazine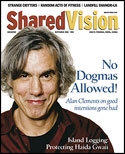 Shared Vision publishes the kinds of pieces that help readers live healthier lives including reports about natural foods, integrative health care and nutrition. The magazine's goal is to acknowledge that most readers mesh their modern, on-the-go lives with a consciousness that draws them to do something more, to be proactive citizens in building a better environment. As publisher Rebecca Ephraim says, "We've created a stage for the people, places, services, and products ­and their unique stories that imagine a future far different from the one many say we're hurtling toward." If it's about highlighting healthy living that incorporates social, physical, intellectual and spiritual growth, chances are, Shared Vision has got it covered. Favourites such as their popular Ask Olga column and food-related articles will still be on hand to give readers a different body, mind and soul perspective that's good for them and the world in which they live.
» Book an Interview
Campaign Coverage:
Vancouver and surrounding areas

Campaign Dates:
Publisher, Rebecca Ephraim, spokesperson. Available year round.