Realty Check: Real Estate Secrets for First-Time Canadian Home Buyers
Top advice from one of television's most well-known Realtors.
Sandra Rinomato
John Wiley and Sons Canada,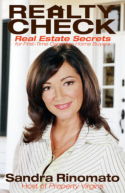 Buying a home for the first time can be a daunting and stressful endeavor. The myriad questions and issues that arise can be overwhelming, resulting in an experience completely different from what first-time buyers were expecting. Sandra Rinomato, the host of the hit HGTV show Property Virgins, delivers a "realty check" by pointing buyers to homes that fit their budget, satisfy their needs, and most importantly, achieve their goal of home ownership. Buying a first property is a major commitment, but readers of this book will be well-prepared to take the leap into home-ownership, with their eyes wide open.
» Book an Interview
Campaign Coverage:
Vancouver