My Parents Went Mac!
by Louise Latremouille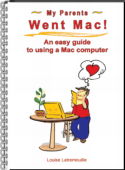 My Parents Went Mac! Between these covers you will find plain, straight-forward directions that will have you enjoying your Mac in no time at all! The first step is setting up your Mac, so it acts the way you want it to. Then we move onto the internet and use Safari. Before you know it, you'll be using Mail! Soon you'll be enjoying some of Apple's greatest programs, like iPhoto and iTunes. You can even learn about iPods! You'll have fun getting to know your Mac!
» Book an Interview
Campaign Coverage:
Across Canada phoners. Vancouver and area in person.

Campaign Dates:
January and beyond!