A Nation of Serfs?
How Canada's Political Culture Corrupts Canadian Values
by Mark Milke
John Wiley & Sons Ltd., 2006
ISBN: 0470838566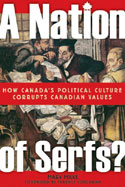 Reflect on this: you work hard; maybe you work two jobs. You do your best to pay the mortgage or the rent, not to mention other bills. You could use a few extra bucks for your kids' sports or education. In short - you're responsible. Shouldn't the people in charge of governments and taxes be the same? This book is a tart, opinionated call for Canadians to re-think their politics, their dependencies, and the mistaken belief that nothing ever changes. But it can. It starts with truth-telling. It starts with remembering our history. It starts with this book.
» Book an Interview
Campaign Coverage:
Vancouver